It's rare that I get to work on my own stuff outside of miniature commission painting, but I try and squeeze it in when I can! Recently it's been a lot of the Guild Ball miniatures as I'm working to build my Brewers team for some gameplay.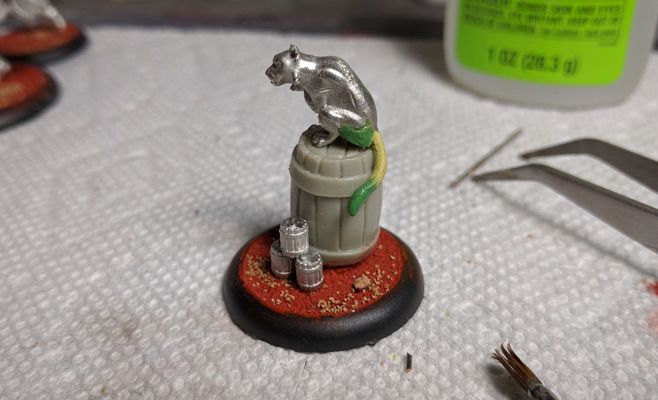 Guild Ball is a game that can be played with a small team of three on a 2x2 playing field. A full team has at least six players, one captain, five strikers and one mascot playing on a 3x3 field. There's a variety of guilds to play but my favorite so far are the Brewers.
On the Brewers team the mascot is a cat named Scum. He's received a bit of modification treatment as I felt his tail looked a little too small and rat like. I've got it draped over the barrel I set him on which comes from Mini Monsters. They've got some great bits of accessories that I also grabbed for some obstruction pieces on the Guild Ball pitch, one is an outhouse!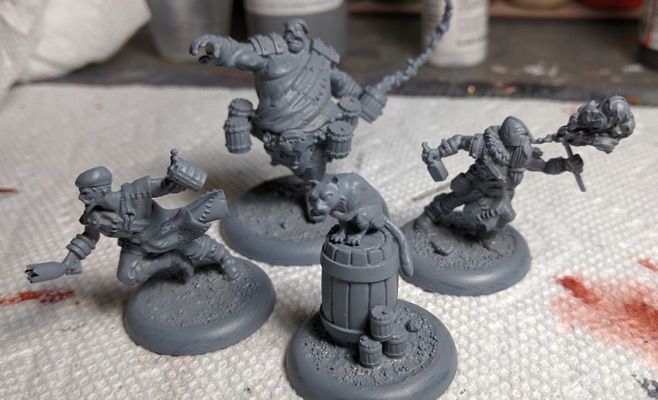 Along with Scum on the table as a work in progress are Spigot, Stave and Stoker. These are the rest of the Season 1 players to fill out my Brewers roster! I've set up the husband with the Alchemists and will be playing the game shortly, we'll see how the game goes between us!
---